Dynamic Photonics, Inc., Developing Technology for High-Speed Fiber-Optic Networks
January 27, 2016 - CHTM, STC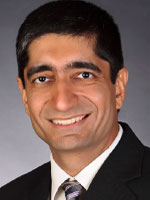 Payman Zarkesh-Ha, PhD
Local start-up company Dynamic Photonics, Inc., is commercializing a technology developed at the University of New Mexico that could make high-speed, distortion-free, low-cost networks a reality. The technology, called a dynamic bias-enhanced avalanche photodiode (DBE-APD), uses off-the-shelf avalanche photodetectors (APDs) for a new circuitry process that will enable receivers to transmit at speeds four to five times faster than receivers currently on the market.
With the exponential growth in network bandwidth requirements, this innovation can solve the marketplace need for highly sensitive and cost-effective optical detectors. To date, there are no commercial APDs available for 25-Gbps+ communication systems. The trillion-dollar telecommunication industry needs higher bit rates for fast, distortion-free, low-cost data transfer for such high bandwidth applications as high-performance computing and video, voice, data and mobile-device internet traffic.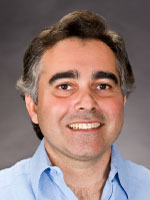 Majeed Hayat, PhD
The UNM technology is the company's core innovation and was developed by Professor Majeed Hayat and Associate Professor Payman Zarkesh-Ha from the Department of Electrical & Computer Engineering and the Center for High Technology Materials, along with co-inventors Luke Lester, Sanjay Krishna, David Ramirez, and John David. Hayat serves as the company's Chief Technology Officer and Zarkesh-Ha as its Vice President for Engineering. CEO Robert Efroymson debuted the technology at the Optical Fiber Communication Conference and Exposition in March 2015.
STC.UNM CEO Lisa Kuuttila is pleased that the technology has attracted commercial interest. "The University of New Mexico has specialized research centers for photonics and optics research and technology development that are among the best in the country and the basis for a growing photonics and optics technology cluster in New Mexico. Drs. Hayat and Zarkesh-Ha are outstanding inventors in this area," she said.