International Year of Light Conference is the top research story of 2015 at UNM
January 5, 2016 - Sharon Steely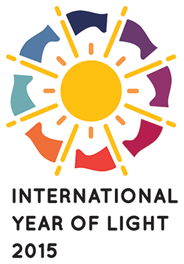 The Center for High Technology Materials (CHTM) and the Optical Science and Engineering (OSE) program at the University of New Mexico (UNM), which have been contributing to the advancement of photonics for over 30 years, sponsored a Conference on Optics and Photonics to commemorate the International Year of Light, held on UNM's main campus in Albuquerque on September 25, 2015. From the phones, tablets or computers we rely on daily, to various medical technologies that improve our health, we depend upon technologies made possible by light. 
The International Year of Light and Light-based Technologies, 2015 (IYL 2015) is a United Nations observance that aims to raise awareness of the achievements of light science and its applications, and its importance to humankind. The State of New Mexico identifies photonics as one of its four top-priority science and technology areas for economic development.
The Conference, which attracted over 500 attendees and featured a panel discussion by distinguished experts on opportunities for public / private collaborations in economic development of breakthrough technologies, was chosen as the first out of the top ten research stories of 2015 by University Communication & Marketing (UCAM).
---
Related:
International Year of Light Conference hosted by CHTM at UNM, September 25, 2015