Professor C. Jeffrey Brinker appears at CHTM to speak to UNM's new student chapter of the MRS
February 12, 2016 - Sharon Steely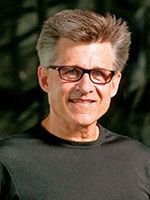 As it turns out, Dr. Brinker is a member of the Board of Directors of the national Materials Research Society, and serendipitously, he was the first speaker for the new student chapter just formed at UNM. Ph.D. candidate Alireza Kazemi, the group's first chapter president, wrote to Professor Brinker to ask him to appear before the new group. He said that the students at UNM would be very excited to hear from him in person, due to his distinguished career. 
Dr. Brinker pioneered sol-gel-science and materials synthesis from soluble molecular precursors. He combined sol-gel processing with molecular self-assembly to create new classes of nanoscale materials for applications in energy and human health.
Dr. Brinker is currently one of four Sandia National Laboratory Fellows (the highest technical position at Sandia) and Distinguished and Regent's Professor at the University of New Mexico (the highest honors bestowed upon UNM faculty) with joint appointments in the departments of Chemical and Biological Engineering, Molecular Genetics and Microbiology, and the Cancer Research and Treatment Center.
Among his many other awards, both national and international, Dr. Brinker received a Materials Research Society Medal in 2003, and became a Materials Research Society Fellow in 2009. He was recognized by the National Academy of Inventors in 2015.
His book, "Sol-Gel Science: The Physics and Chemistry of Sol-Gel Processing," co-authored with George W. Scherer, published in 1990, has been described as "the" indispensable desktop reference for the sol-gel chemist.
For his talk at CHTM, Dr. Brinker covered "Mesoporous Silica Nanoparticle Supported Lipid Bilayers for Targeted Delivery," speaking to a rapt audience in CHTM 101. The students enjoyed pizza for lunch as well, making it a great occasion to kick off the new year for their student chapter of the MRS!