UNM STEM Student Research Day is April 16th at the SUB
March 31, 2016 - Sharon Steely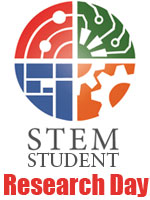 UNM STEM Student Research Day will be held on Saturday, April 16, 2016 in the UNM Student Union Building. This is a student-led event, often held annually, produced collaboratively by the Graduate Student Associations for NanoScience & Microsystems Engineering (NSME) and Chemical and Biological Engineering (CBE). 
In addition to giving graduate students in STEM fields an opportunity to present their research to their peers and the general public, Research Day is designed to connect UNM STEM students with the local scientific community and industry in order to create opportunities for communication, collaboration, and possible entrepreneurial ventures.
The Keynote speaker is Gary Oppedahl, serial entrepreneur and Director of the Albuquerque Economic Department. Guest speakers include Dr. Kyle Montgomery, Research Engineer with the Air Force Research Lab; Dr. Ronen Polsky and Dr. Eric Spoerke, researchers with Sandia National Laboratories; and Dr. Gabe Montaño, Staff Scientist with the Center for Integrated Nanotechnologies (CINT), and a champion for diversity in STEM.
Research Day is currently co-sponsored by four UNM departments: NanoScience & Microsystems Engineering, Chemical & Biological Engineering, BioMedical Engineering, and Chemistry & Chemical Biology. There is no charge for students, faculty or the public to attend.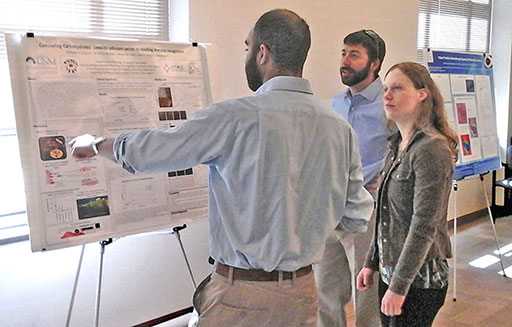 Students discuss graduate work in a poster session at the 2015 Research Day
Students will have the opportunity to compete for a $1000 prize pool by presenting posters or oral presentations on their work.  The oral presentations are "conference-style," which is a 12-15 minute presentation followed by 3 minutes for questions. In the poster sessions, students present their work on a 4'x5' poster and interact with individuals and judges. Printing assistance is available upon request (request due to nsme@unm.edu by April 12th).
The option of giving a 3-4 minute "Lightning Talk" is also available to present big picture concepts and possible entrepreneurial applications. (Lightning Talks are not eligible for a prize.) 
All UNM STEM graduate students are welcome to present. Oral presentation abstracts are due Tuesday, April 12th; while poster and Lightning Talk abstracts are due Thursday, April 14th. Submit abstracts to nsme@unm.edu.
Food and drink is provided throughout the day, including refreshments and a catered lunch. A catered banquet with a beer and wine reception will be held afterwards.
Please RSVP to nsme@unm.edu for the catered banquet no later than Monday, April 11, 2016.
The public is invited to attend to meet the students, view the students' projects and learn about the exciting work being done at the University of New Mexico.
Poster Sessions will be held from 12 - 1:30 p.m. Oral presentations will take place in three scheduled sessions from 10:30 a.m. to 4:20 p.m., with a break for lunch.
For questions on Research Day, email nsmsgsa@unm.edu. View or download the Research Day PDF for more information and a schedule of the day's events.