Congratulations to Dr. Yuliya Kuznetsova, featured in STC's May Spotlight
May 6, 2016 - From the STC Spotlight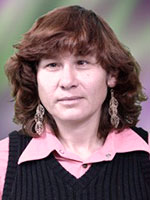 Yuliya V. Kuznetsova, PhD, Research Assistant Professor with CHTM, has been recognized by STC.UNM for her research and her accomplishments as an innovator. Dr.  Kuznetsova has disclosed eight inventions to STC, received five UNM-affiliated issued U. S. patents, has six pending patent applications, and an option to license agreement with start-up Armonica Technologies LLC for her nanopore sequencing technology.
Armonica Technologies, an STC start-up, is developing innovative third generation DNA sequencing technology based upon discoveries made at CHTM, Sandia National Laboratories and Redondo Optics, Inc.
The third-generation DNA sequencing technology is based on the integration of nanochannels to deliver single DNA molecules with widely spaced "tortuous" nanopores that slow DNA translocation sufficiently to provide massively parallel, single-base resolution using optical techniques.
Dr. Kuznetsova's interferometric microscopy technologies have provided a leap in resolution using off-axis illumination and interferometric optics that increase resolution over traditional microscopy, making it more adaptable than current technology for semiconductor manufacturing and microscopy of biological subjects. Her research focuses on investigating the possibilities of improving the resolution of interferometric microscopes with different off-axis illumination configurations and on developing and fabricating nanochannel structures using interferometric lithography for the study of DNA behavior in nanochannels.
Learn more about Dr. Kuznetsova's research, including a list of patents and pending applications, at the STC Spotlight for May.