Armin Doerry, Research Professor at CHTM, named as SPIE Fellow
June 22, 2016 - Excerpted from Sandia Labs News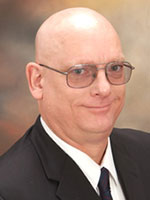 Armin Doerry

Congratulations to CHTM Research Professor and Sandia National Laboratories researcher Armin Doerry, who has been named as an SPIE Fellow for his technical achievements in imaging microwave radar technology development, design and analysis.
Doerry is one of 32 new Fellows honored in 2016 by SPIE, an international society for optics and photonics established in 1955 as the Society for Photo-Optical Instrumentation Engineers.
Doerry's work was conducted with many teams in 29 years at Sandia National Laboratories and with industry and academic partners, including CHTM. His work is in use today producing radar systems that are finding military targets, gathering intelligence, helping with maritime search and rescue, and protecting borders.


Doerry's career at Sandia has coincided with projects that covered much of the growth of synthetic aperture radar, or SAR, which was first developed in the 1950s. Sandia has been a leader in developing SAR technology since the 1980s. SAR provides capablities which mitigate real-world conditions of darkness or inclement weather and optimize broad-area imaging at high resolutions for environmental monitoring, earth-resource mapping, and military systems.
Doerry brought his math and systems analysis skills to Sandia teams that developed the first real-time, 10-centimeter resolution MiniSAR and the high-performance Lynx SAR system. From 2000-2006, the Sandia team combined several technologies together for MiniSAR to reduce the size, weight and volume of high-performance radar systems.

Doerry holds a doctorate in electrical engineering from UNM, a bachelor's from the University of Kansas and a master's from Stanford University in the same field. He has 20 patents, 19 of them in radar, and has authored 56 publications in SPIE journals and proceedings.
In addition to working at Sandia, Doerry has taught as an adjunct professor at UNM for five years and volunteers with universities and small businesses to advise on technical issues. Since 2008, he has been chairman of SPIE's Radar Sensor Technology Conference and a committee member and session chairman for this and other SPIE conferences for 10 years.
This post was excerpted from the Sandia Labs News Release, where you can learn more about Doerry's work with Sandia and his contributions to microwave radar technology research.