Martin Kirk promoted to Distinguished Professor at UNM
July 25, 2016 - CHTM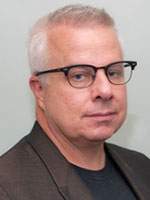 Distinguished
Professor
Martin Kirk
Provost Chaouki Abdallah and Health Sciences Center Chancellor Paul Roth recently announced the promotion of six UNM faculty to the rank of Distinguished Professor.
The rank of Distinguished Professor is the highest faculty title that UNM bestows. It is awarded to those individuals who have demonstrated outstanding achievements. Also, those who are nationally and internationally renowned as scholars may be considered for this faculty rank.
Martin Kirk, CHTM faculty member and Professor with the UNM Department of Chemistry, is a national leader in the study of metallobiochemistry, molecular electronics and magnetochemistry. He is especially known for his study of molybdenum-based enzyme catalysis and donor accepted bi-radicals. His research shows how complex chemical processes involving metallic substances affect life on this planet in unexpected ways.
Kirk's work is especially known for the wide range of techniques he uses to examine these processes, with equal emphasis on detailed spectroscopic and computational bioinformatics approaches. He has published more than 120 journal articles and his work has been cited more than 3,500 times. He has served as the PI or Co-PI on more than $5 million in grants since 2005.
---
This post is excerpted from the article published in the UNM Newsroom, where all six faculty members promoted at UNM are listed.