Laser diode market projected to grow through 2020
July 7, 2016 - CHTM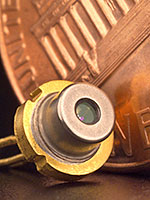 Optics.org Market News reports that the growing use of laser diodes in industry and telecommunications will drive market growth through 2020, based on a Technavio analysis. Technavio is a leading technology research and advisory company with global coverage, focused on emerging technology trends that can shape markets.
Total sales are likely to exceed $10 billion by 2020, growing at an 11% compound annual growth rate (CAGR) over the next four years, says analyst Technavio. 
Laser diodes, invented in 1962, are ubiquitous in today's technical landscape and a key component of several industries. The laser diode is the most common type of laser produced, with a wide range of uses that most notably includes fiber optic communications. Discoveries relating to laser diodes can potentially have a very large market.
The optics.org article says the $2500 Technavio report, "Global Laser Diode Market 2016-2020," provides analysis of emerging trends for the application of laser diodes in six market segments:
Industrial
Communications
Optical storage
Military
Medical
Instrumentation & sensors
The optics.org article summarizes three market sectors from the Technavio report:
Industrial
The report states, "In the industrial segment, laser diodes are mostly used for material processing and lithography and for cutting metals and welding plastics as laser diodes have high efficiency, power, and brightness."
Asif Gani, a lead analyst at Technavio for embedded systems research, said, "Laser diodes are efficient, have low investment costs, produce less distorted heat, and have a high processing speed. These factors drive the demand for laser diodes in the industrial segment."
Communications and optical storage
Laser diodes form an important component of broadband communications. They are also installed as transmitters in fiber optic networks in order to pump lasers in erbium doped amplifiers, and are also used as high-power pulsed lasers in test and measurement applications.
Technavio's report states that the telecommunication industry and its sectors will experience "rapid growth worldwide due to rising capital expenditure and improved network quality… New technologies will help improve the performance of existing fixed and mobile infrastructure."
Military
Laser diodes are used in anti-missile systems, airborne laser mine detection systems, illuminators, and solid-state and high-energy laser pump sources. They are also used for range finding and target destination locking.
Diode lasers are also used to improve the targeting quality of any weapon. Other military applications include beacons and target designation, open-air communication, infrared illumination, 3D alignment, and distance sensing by remote controlled devices.
---
This post is largely excerpted from the article, "Growing use of laser diodes in industry, telecoms to drive market through 2020," published June 29 in the Market News section of optics.org.