UNM is ranked among the best worldwide in the largest academic ranking of universities
July 14, 2016 - Excerpted from an article by Steve Carr in the UNM Newsroom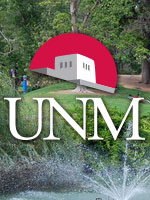 The University of New Mexico (UNM) is ranked among the world's top universities according to the latest Center for World University Rankings (CWUR), which is the largest academic ranking of global universities.
CWUR publishes the only global university ranking that measures the quality of education and training of students as well as the prestige of the faculty members and the quality of their research without relying on surveys and university data submissions.
In CWUR's 2016 rankings, UNM is ranked No. 196 among 1,000 universities worldwide out of more than 25,000 institutions overall. When compared against U.S. institutions directly, UNM is ranked No. 82.
When compared to other notable U.S. universities, UNM ranked higher than many prestigious universities including University of Georgia (83), Iowa State (84), Kansas (85), Missouri (88), North Carolina State (89), George Washington University (86), Oregon State (97), University of Tennessee (96), Florida State University (98) and the University of Oklahoma (101).
UNM's top indicators came in the areas of citations and patents where it ranked No. 90 and 119 respectively.
In UNM's two highest categories, citations are measured by the number of highly-cited research papers, while patents are measured by the number of international patent filings.
"The specific categories of highly-cited papers and patents provide objective measures and illustrate the impact of our faculty research," said UNM Provost Chaouki Abdallah.
Research conducted by faculty members at UNM's Center for High Technology Materials (CHTM) accounts for about 35% of the STC.UNM portfolio of issued US patents. The US patent count for CHTM faculty is up to 179. The cumulative h-Index for citations of papers and patents by CHTM faculty is 90. (The h-index is a number intended to measure both the productivity and the impact of published work.) CHTM plays a key role in UNM's worldwide leadership as a research university.
The CWUR rankings started out as a project in Jeddah, Saudi Arabia in 2012 with the modest aim of ranking the top 100 global universities. The ranking was quickly reported worldwide and many requests were received to expand it, which it did in 2014.
For a complete ranking of the top-1000 universities worldwide, visit: CWUR 2016 – World University Rankings.
---
Related:
Excerpted from a story published by Steve Carr in the UNM Newsroom, except for the CHTM statistics.
This story was also covered at Albuquerque Business First by Christopher Ortiz.