Lilian Casias, Ph.D. candidate at CHTM, builds on student success with notable scholarship
August 29, 2016 - Sharon Steely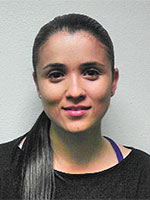 Lilian Casias, a Ph.D. candidate at the UNM Center for High Technology Materials (CHTM) and a member of the Krishna Research Group since 2013, has been awarded a Graduate Scholarship by the Directed Energy Professional Society (DEPS). For the academic year 2016-2017, the DEPS Graduate Scholarship awards $10,000, with the possibility of renewal in coming years.
The Directed Energy Professional Society (DEPS) is the premier organization for exchanging information about and advocating research, development and application of directed energy (DE), which includes both high energy lasers (HEL) and high power RF (HPRF). DEPS fosters research and development of DE technology for national defense and civil applications through professional communication and education.
DEPS, a non-profit corporation, was founded in 1999. DEPS serves the DE Community through the volunteer efforts of nearly 1,000 members. They represent a wide cross section of the DE community. About half are associated with industrial organizations and a third with U.S. Department of Defense services, with 11% of the membership in the Education field. The International Society for Optical Engineering (SPIE) is one of several sponsors of DEPS.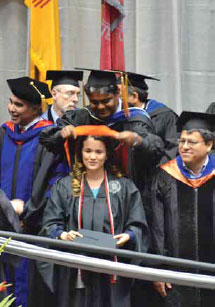 Casias is awarded her Master's degree at UNM (with advisor Sanjay Krishna)
Accomplishments and hard work as a student
As a Graduate Researcher at CHTM, Casias' work encompasses infrared detectors, avalanche photodiodes, Cleanroom single pixel devices processing, fabrication, optoelectronics, characterization of devices (spectral response, responsivity, dark current), and other areas.
She works with Dr. Sanjay Krishna's research group on developing novel Ga-free Long-Wave Infrared (LWIR) based on an InAs/InAsSb type-II strained layer superlattice (T2SL) material system with the support of the Naval Research Labs (NRL) and Army Research Office (ARO).
Casias is also a Graduate Research Assistant with the Center for Integrated Technologies (CINT) at Sandia National Laboratories under the direction of Dr. Junji Urayama. The Sandia Enabled Communications and Authentication Network (SECANT) is composed of world-class teams in integrated photonics, quantum theory, and systems.
Previously, Casias worked at UNM's Multi-Agent, Robotics, Hybrid, and Embedded Systems (MARHES) Lab. She completed her Bachelor of Science (2010) and Master of Science (2015) in Electrical Engineering at UNM and is currently working towards her Ph.D. with a focus in optoelectronics. Her current research at CHTM focuses on detector modeling, fabrication and characterization.
She is active in the UNM Student Chapter of SPIE, having served as Chapter President and Secretary, and has served as President of the Hispanic Engineering and Science Organization (HESO), receiving the New Mexico "Woman in Technology" award in 2015.
In high school, Casias was one of the first members of the Hermanitos program, an outreach effort of HESO, a mentoring program of the UNM School of Engineering. She graduated from Highland High School ln Albuquerque in 2005.
Casias benefited from the initiation of President Obama's Deferred Action for Childhood Arrivals (DACA) program in 2012 and she is proud of her background.
Casias attributes her success to great support from her loving husband, parents, in-laws, family, mentors and her advisor. Her main focus is to make her one and a half year old son proud.