CHTM faculty member John Grey named Regents' Lecturer
August 5, 2016 - CHTM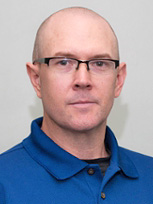 John Grey, CHTM faculty member and Associate Professor with the UNM Department of Chemistry & Chemical Biology, has been named a Regents' Lecturer in Arts & Sciences for 2016-2019.
The Regents' Lecturer award recognizes UNM's most outstanding mid-career faculty. In his email recognizing Grey, CHTM Interim Director Arash Mafi said the award signifies the very high regard for Professor Grey's accomplishments within the College.
Professor Grey's research focuses on understanding structure-function relationships in organic semiconductor materials from the nano- to microscale size ranges. Of particular interest is conjugated polymers that possess unique optical and electronic properties not observed in small molecule analogs. His research group primarily uses spectroscopic and electrical imaging to generate spatial correlations between local structure (packing and composition) and material performance in functioning devices.
Professor Grey has achieved other distinctions in his career:
---
Faculty page at Chemistry & Chemical Biology