A New Mexico startup licensed by STC.UNM is one of only 18 chosen to present to investors in Washington, D.C.
August 31, 2016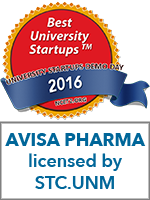 A University of New Mexico (UNM) company is presenting at the "Universities Startup Demo Day" on September 20 in Washington, DC.
Avisa Pharma Inc., a New Mexico startup commercializing diagnostic breath test technology developed and licensed from UNM, is one of 35 companies selected as a "Best University Startups 2016" company by the National Council of Entrepreneurial Tech Transfer, or NCET2. NCET2's mission is to strengthen the innovation and entrepreneurial network for university startups by bringing together Fortune/Global 1000 companies, angels, VCs, economic development organizations, state and federal agencies, universities and entrepreneurs.

Out of the 800 startups created each year from universities around the country, 200 companies were submitted by their universities and screened by NCET2 to find the top university startups for 2016. These companies are the most exciting early-stage companies presented by the country's great universities. Avisa Pharma is one of 18 included in the first round of winners who will present their technologies to potential investors and Fortune 500 representatives at University Startups Demo Day.
About Avisa Pharma, Inc.
The company was cofounded by CEO David Joseph and Dr. Graham Timmins, an Associate Professor with the UNM College of Pharmacy in Pharmaceutical Sciences. The breath test developed at the company is quick and non-invasive. It measures the presence of the urease enzyme found in certain bacteria that cause pulmonary infection using a proprietary, nebulized drug inhaled by the patient.
This means it can rapidly measure bacteria in the lungs to determine if a patient has an infection such as tuberculosis. The technology was originally developed by Graham Timmins, as a UNM professor of medical chemistry and toxicology, and Vojo Deretic, chair of the Molecular Genetics and Microbiology Department.
The company is now focusing on potential use of its technology in emergency rooms and intensive care units to rapidly determine if patients have bacterial pneumonia, and to monitor whether antibiotics are working.
Innovation added to education and research mission for many universities
There is a revolutionary transformation occurring at universities to build campus-wide innovation ecosystems.
According to NCET, "Universities have quietly hired startup officers to help students, researchers and alumni create and fund innovative social and for-profit startups. And, at the same time, they have been establishing new innovation districts on their campuses to nurture and incubate these American dreamers."
"If you walk onto a university campus today you will find unheralded doers and makers solving the world's most pressing problems, from remotely powered medical devices to regenerative medicine, and from IoT building solutions to alternative sustainable coatings and materials."
"The University Startups Demo Day is the university community's opportunity to show the nation how far it's come in its bold, new vision for the future of the university."
---
This story is excerpted from:
• New Mexico Startup Avisa Pharma Chosen by National Startup Association as a Top University Company, at STC.UNM
• Santa Fe tech firm in running for startup honors, by Kevin Robinson-Avila for The Albuquerque Journal
• http://ncet2.org/about-us.html