UNM School of Engineering is a Top 100 engineering school, says U.S. News & World Report
September 13, 2016 - Compiled by CHTM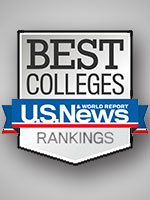 The 2017 rankings for universities in the United States were released recently by U.S. News & World Report. The schools are ranked according to their performance across a set of widely accepted indicators of excellence, which include first-year student retention, graduation rates, and the strength of the faculty. U.S. News says that the changes in their report for 2017 include a recategorization of colleges based on the Carnegie Classification of Institutions of Higher Education. UNM is the only university in New Mexico to earn the rating of a "Very High Level Research Institution" from Carnegie.
The University of New Mexico
The University of New Mexico (UNM) tied for #176 with 6 other institutions in National Universities. This is up from #180 in last year's list. Schools in the National Universities category, such as Columbia University and the University of Pennsylvania, offer a full range of undergraduate majors, plus master's and doctoral programs. These colleges are also committed to producing groundbreaking research.
UNM tied for #93 with 5 other institutions in Top Public Schools. Public colleges and universities typically operate under the supervision of state governments and are funded, in part, by tax dollars and subsidies from the state. These universities often offer discounted tuition to residents of their states. Public schools run the gamut from small liberal arts colleges to large research institutions.
UNM lists its in-state tuition as $6,664 and $21,304 for out-of-state tuition. The school is reported as having 20,857 undergraduate students. The average cost of in-state tuition at a public university, according to the College Board, is $9,410, so UNM is a good deal when it comes to tuition. Top ranked schools were Princeton University, Harvard University and the University of Chicago, which cost $45,320, $43,280 and $50,997 respectively. 5
Most of the data come from the colleges' responses to a survey. U.S. News collected data on more than 1,800 colleges. Only 1,374 schools were included in the rankings. Where needed, U.S. News also made use of statistical data that colleges are required to report to the National Center for Education Statistics. U.S. News posted other ranking factors and details of their methodology online.
---
UNM School of Engineering
Top engineering schools and colleges in the U.S. News University Directory provide advanced education in specialized engineering fields, such as aerospace engineering, civil engineering, environmental engineering and computer software engineering. The UNM School of Engineering is a Tier 1 school in the Top Engineering Colleges and tied for #82 with Michigan Technological University, the University of Central Florida, the University of Cincinnati and the University of Texas at Arlington. 2
U.S. News reports that the UNM School of Engineering has 853 students and 96 full-time faculty. 2
---
Anderson School of Management
UNM's Anderson School of Management tied with 19 other institutions for #114. According to Dr. Craig White, Dean of Anderson, "Having a national ranking helps bring in international students who are looking for prestige and are also attracted to UNM for its low cost." 5
---
Sources:
1 http://colleges.usnews.rankingsandreviews.com/best-colleges/university-of-new-mexico-10313
2 https://www.usnewsuniversitydirectory.com/us-news-rankings/best-graduate-schools/engineering/
3 http://colleges.usnews.rankingsandreviews.com/best-colleges/rankings/national-universities/top-public
4 http://www.usnews.com/education/best-colleges/articles/how-us-news-calculated-the-rankings
5 "New Mexico universities nab US News rankings" by Marissa Higdon, Reporter with Albuquerque Business First