OSE Distinguished Lecture Series, Nov. 2-4, features nanophotonics expert Nader Engheta
October 13, 2016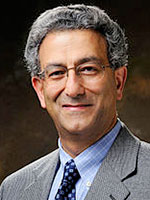 Nader Engheta
UNM's Optical Science & Engineering program (OSE) has invited Nader Engheta, the H. Nedwill Ramsey Professor in the School of Engineering and Applied Sciences at the University of Pennsylvania, to be the guest speaker for the Distinguished Lecture Series. OSE is hosting the event  in conjunction with the UNM College of Arts & Sciences and School of Engineering.
The University of Pennsylvania tied for #8 in National Universities in the U.S. in the 2017 rankings released recently by U.S. News & World Report.
UPenn's School of Engineering & Applied Sciences (SEAS) houses six dedicated research labs focused on areas ranging from nanotechnology to robotics to computer graphics and animation. It is a world-class research institution that is pushing the boundaries in the areas of Nanotechnology, Information Systems and Biological Engineering.
For the Series, Professor Engheta will conduct three separate lectures in Room 101 at the UNM Center for High Technology Materials (CHTM map and directions here).
Tailoring Waves at the Extreme with Metamaterials
3-5 p.m., Wednesday,  November 2
Low-Index Photonics
3-5 p.m., Thursday, November 3
Quantum Optics of Metamaterials
9-10 a.m., Friday, November 4
Engheta's presentations will be geared toward a wide audience of working professionals in technical fields. All students, faculty, staff and industry partners are encouraged to attend.
Registration has been closed for this event.
Engheta is an award-winning researcher (faculty profile) who focuses on the science and technology of waves and wave-matter interaction, both in the optical and microwave domains. He has made significant contributions to the fields of optics, photonics, nanomaterials, and miniaturized antennas.
Engheta's research interests span the fields of nanooptics and nanophotonics, metamaterials and plasmonics, and optical nanostructures, including nanoantennas, nanocircuits, and nanosystems. He and his group have been developing the concept of optical lumped nanocircuits based on material nanostructures, with the goal of "modularizing" nanophotonics and providing the possibility of information processing with light at the nanoscale, and also the extreme platforms for unprecedented tailoring and manipulating light-matter interaction. His group has also been investigating bio-inspired sensing and imaging.
To learn more about Engheta and his research, please visit his research group website.
He is the recipient of many awards, including the 2015 Fellow of the U.S. National Academy of Inventors, the 2015 Gold Medal from SPIE, and the 2015 National Security Science and Engineering Faculty Fellow Award from the Department of Defense.
Engheta is also affiliated with the departments of Electrical and Systems Engineering; Bioengineering; Physics and Astronomy; and Materials Science and Engineering at University of Pennsylvania. He earned his master's and Ph.D. degrees from the California Institute of Technology, and his bachelor's degree from the University of Tehran, all in electrical engineering.