Vote yes on General Obligation Bond C for New Mexico higher education
October 24, 2016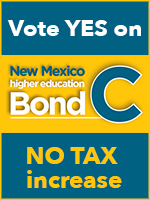 Bond C for Higher Education will provide more opportunity for New Mexico's students, create local jobs and provide communities around the state an economic boost, all without raising taxes.
The Bond C package will spur growth on five UNM campuses. New Mexicans are being asked to vote "yes" on higher education Bond C to make a big impact for thousands of students, for projects such as:
The new 137,000-square-foot Physics & Astronomy and Interdisciplinary Science facility (PAIS) in Albuquerque on UNM's main campus

PAIS, which will cost more than $65-million, will be the largest building on main campus. A portion of the money needed for the facility would come from bonds. With Bond C approval, the facility could be completed by 2019.

6,500 sq. ft. addition to the TSTEMH Technical Career Center in Taos with fully equipped classroom labs for computer technologies
New physical plant at UNM-Gallup
Infrastructure improvements at UNM-Los Alamos
Infrastructure improvements and IT systems at UNM-Valencia
Rodgers Hall renovations and Trolley Building at New Mexico Highlands University
Jett Hall at New Mexico State University
Improvements at New Mexico Institute of Mining & Technology
Continued investment in higher education will make New Mexico attractive to innovative, forward-thinking businesses, creating an opportunity for even more high paying jobs. Support of this year's GO Bond will help students gain a competitive edge when they graduate. Our college and university students have to be better than students from around the globe.
In 2012 and 2014, voters from around New Mexico overwhelmingly supported these much-needed improvement funds.
Absentee and early voting on Bond C is underway. Election day is Nov. 8.
---
Sources:
• New facility will help UNM researchers and students change the world, by Aaron Hilf, UNM Newsroom
• Bond C would impact higher education across New Mexico, UNM Newsroom
• Bond C to benefit UNM branch campuses, UNM Newsroom
• Make New Mexico a better place to... advance, learn, succeed, achieve (Bond C website)