Behsan Behzadi recognized with ASSL Student Outstanding Poster Prize at conference
November 10, 2016 - Sharon Steely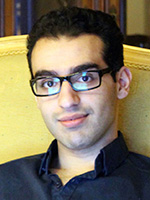 Behsan Behzadi
Congratulations to Behsan Behzadi, Research Assistant with the Center for High Tech Materials (CHTM) at the University of New Mexico (UNM) on receiving the ASSL Student Outstanding Poster Prize at the recent Advanced Solid State Lasers Conference (ASSL), held in Boston, Massachusetts, October 30 - November 3, 2016.
Behsan Behzadi was born in Tehran, Iran in November 1989. He received the B.S. degree in Physics from Sharif University of Technology in 2013 and the M.S. degree in Optics from The University of New Mexico in 2016. He is currently working towards his Ph.D. in Optical Science and Engineering at CHTM on a project titled "Compact Narrow-Linewidth Microresonator-based Mid-Infrared Sources for Ultra-Sensitive Molecular Detection."
Behzadi's Advisor is Mani Hossein-Zadeh, Associate Professor of Electrical and Computer Engineering at UNM and the leader of the Microwave Photonics Group. Ravinder K. Jain, Co-Advisor, is a Professor of Electrical and Computer Engineering with a joint appointment in Physics and Astronomy at UNM. Both are faculty members of CHTM and the Optical Science and Engineering Program (OSE) at UNM.
All three are co-authors on the paper outlining the research for the poster, which was published by OSA Publishing. Behzadi's work on the poster was accomplished with the guidance of his advisors.
Founded in 1916, The Optical Society (OSA), is the leading professional association in optics and photonics, home to accomplished science, engineering, and business leaders from all over the world. Through world-renowned publications, meetings, and membership programs, OSA provides quality information and inspiring interactions that power achievements in the science of light.

The Advanced Solid State Lasers Conference (ASSL), hosted by the OSA Laser Congress, highlights new sources, advanced technologies, components and system design to improve the operation and application of solid state lasers. It covers the spectrum of solid state lasers from materials research to applied science and design innovations. Market-focused sessions and presentations are also featured. The 2016 congress was the first to couple research with product requirements. This international meeting is highly selective in reviewing paper submissions for oral presentation.
600 attendees from around the world were present to learn about the latest advances in solid state laser development and related technologies for use in free space laser communication, laser based sensing, and numerous industrial applications.
The award for Behzadi's poster, "Polarized Wavelength-Tunable Narrow Linewidth Emission from a Diode-Pumped Mid-IR Microspherical Laser," was sponsored by IPG Photonics, self-described as "The World Leader in Fiber Lasers." OSA is also recognizing Behzadi with a complementary registration to the 2017 Laser Congress in Japan.