LESA ERC group wins award at Big Brothers, Big Sisters Festival
December 11, 2016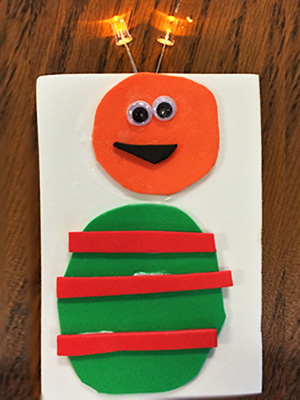 The Lighting Enabled Systems and Applications (LESA) Engineering Research Center (ERC) at The University of New Mexico (UNM) won the "Best Real World Application of STEM" Award at the "Discovery Festival by Big Brothers, Big Sisters" held on November 18, 2016 at the Albuquerque Convention Center. The event drew more than 1,500 K-12 students from around New Mexico.
From the UNM Center for High Technology Materials (CHTM), Javad Ghasemi, Mottaleb Hossain, Arman Rashidi, Andrew Cochrane and LESA pre-college outreach coordinator Stefi Weisburd helped middle and high school students light LEDs and make LED artwork. They also demonstrated "Visible Light Communication" by sending a song via laser beam to a solar cell hooked up to a speaker, and gave out diffraction glasses so students could see the colors of light that combine to make white light.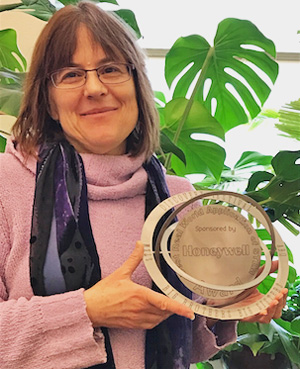 Stefi Weisburd accepts the "Best Real World Application of STEM" award on behalf of the LESA ERC
In addition to participating in the Festival, Weisburd serves as a mentor in the Big Brothers Big Sisters' pilot Mentor 2.0 program at South Valley Academy, where for the past 4 years she has helped her "Little Sister" prepare for college. Weisburd is the Outreach and Education Manager with CHTM and the UNM School of Engineering.
---
Related: