Senator Martin Heinrich visits with CHTM at UNM Legislature Day
January 31, 2017
---
CHTM conducts outreach at UNM Day at the New Mexico State Capitol
Dozens of departments, programs and schools from The University of New Mexico (UNM) showcased their work at the capitol building in Santa Fe for the annual UNM Day during the State Legislature session on January 30, 2017. The Center for High Technology Materials (CHTM) was included among the members of the UNM community presenting their achievements at UNM.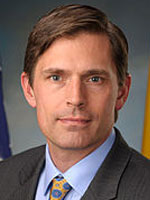 Senator Martin Heinrich
CHTM Interim Director Arash Mafi, Nanofab Manager Tito Busani and ECE Associate Professor Ganesh Balakrishnan visited the Roundhouse to conduct outreach and public education on behalf of CHTM.
HIghlights of the day included a discussion with U.S. Senator Martin Heinrich, who paid a visit to CHTM before his scheduled speech to both houses of the legislature. Heinrich proved eager to catch up on developments in sustainable energy with Balakrishnan. Mafi and Heinrich discussed the many benefits that CHTM contributes to the New Mexico economy.
Mafi also encouraged many young future scientists who showed an interest in the CHTM solar panel samples from Balakrishnan's research group. In addition, there was an opportunity to touch base with UNM School of Engineering Dean Joe Cecchi and Arts & Sciences Dean Mark Peceny.