Apply for SPIE Scholarships by February 15th
January 19, 2017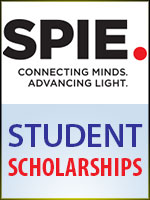 Applications are being accepted for the SPIE Optics and Photonics Education Scholarships until February 15th, 2017 for the 2017-2018 academic year.
Optics and Photonics Education Scholarships are available to SPIE student members who are studying in optics, photonics or a related field. Students are eligible to receive one (1) Education Scholarship for each academic level including high school, undergraduate, Master's and PhD. Both full- and part-time students are eligible to apply.
Students who have obtained a PhD are not eligible to apply. Preference may be given to those who have not received any previous awards from SPIE.
The Education Scholarship award amounts vary from $2,500 to $11,000 and typically support tuition, books, research activities, and other education-related expenses.
The key criterion in evaluating and ranking applications is the "prospect for long-term contribution that the granting of an award will make to the field of optics, photonics or related field."
---
Please refer to the SPIE website for scholarship criteria and application requirements.