UNM OVPR hosts forums to discuss Research Strategic Plan in March 2017
March 17, 2017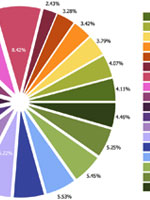 To fulfill the task of creating a strategic plan to focus specifically on research and creative scholarship at UNM's main campus, the Office of the Vice President for Research (OVPR) assembled a diverse Research Strategic Planning Committee of faculty and staff from colleges across campus to guide the process.
The Research 2020 Draft, working group reports and presentations from the work of the committee are available at: http://research.unm.edu/rsp-reports-presentations
The OVPR is hosting forums in the UNM Student Union Building over the next couple of weeks to discuss the strategic plan and gather feedback from faculty, staff and students. Light refreshments will be provided. Members of the UNM Campus Community are welcome to attend any forum that works with their schedule.
Forum Schedule
All forums will be held in the Student Union Building (SUB) Lobo Rooms A&B:
Forum I:
Wednesday, March 22,
3:30 p.m. - 4:30 p.m.
Forum II:
Thursday, March 23,
1:30 p.m. - 2:30 p.m.
Forum III:
Wednesday, March 29,
9:00 a.m. - 10:00 a.m.
Forum IV:

(Will be held if needed)
Thursday, March 30,
10:00 a.m. - 11:00 a.m.