"Connect to Success" Workshop designed to connect businesses to vital resources
April 27, 2017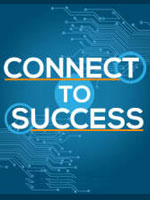 Connect to Success Workshop 
View agenda and program details
Thursday, May 4, 2017
8:00 a.m. – 12:00 noon
CNM Workforce Training Center
5600 Eagle Rock Ave. NE (Map)
$12 fee includes light breakfast.
Register online here.
The Connect to Success workshop will cover topics such as New Mexico labor law, state incentives for existing businesses, working with the Small Business Innovation Research program and Albuquerque's "Foreign Trade Zone" which may defer import duties. Of special interest to science and technology entrepreneurs are:
Barbara Stoller, Director, SBIR Resource Center, presents "Small Business Innovation Research: The Nation's Best Funding Source for Technology Startups." Every year, approximately 60 New Mexico technology entrepreneurs receive over $30 million from the SBIR program. The SBIR Phase One award is for a maximum of $150,000 for a feasibility study up to six months; the SBIR Phase Two award is for prototyping over a two-year period for up to $1 million. The funds require no payback and the company retains the intellectual property rights.
Genaro Montoya, Program Leader, Sandia National Laboratories, presents "Tackle Your Technical Challenges with the New Mexico Small Business Assistance Program." Learn how to gain access to technology and expertise available at Sandia National Laboratories and Los Alamos National Laboratory. Jointly, the labs are committed to solving small businesses' critical challenges with national laboratory expertise and resources, and influencing New Mexico business development by building capacity, capabilities and competencies.
The morning workshop is presented by the Albuquerque Forward Fund, the office of Albuquerque Economic Development, the Albuquerque Community Foundation, and the City of Albuquerque. The New Mexico Manufacturing Extension Partnership is sponsoring the event. The Albuquerque Forward Fund supports the mission of Albuquerque Economic Development, Inc., to attract new employers to the area, help existing employers grow, generate jobs, and expand the economy. The Fund sets up programs to educate employers and connect them to the resources they need in order to innovate, expand and thrive.