Innovate New Mexico Technology Showcase
April 3, 2017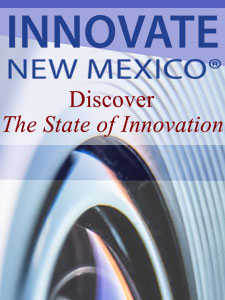 Tuesday, April 18, 2017
8:00 a.m. – 3:00 p.m.
Sandia Golf Club
30 Rainbow Road
Albuquerque, NM 87113 (Map)
$30 fee includes light breakfast and lunch buffet. Non refundable.
The network of Innovate New Mexico® gathers for this collaborative event, designed to bring together research and technology opportunities, start-up companies, and economic development resources from the leading research institutions in the state of New Mexico:
Air Force Research Laboratory
Los Alamos National Laboratory
New Mexico State University
New Mexico Tech
Sandia National Laboratories
STC.UNM/The University of New Mexico
The day will include featured technology presentations, a lunchtime panel, and networking breaks throughout to visit startup tables.
Featured Presenters:
Pseudomorphic Glass for Space Solar Cells, David Wilt - AFRL
Microneedle Sensors to Monitor Health and Human Performance, Ronen Polsky, PhD - Sandia
DNA-Based Biosensor, Steve Graves, PhD – UNM
Method and System for Purifying Produced Water, Jianjia Yu, PhD - NM Tech
Liquid Organic Fertilizer (LOF), Zohrab Samani, PhD - NM State
Ligand-Directed Targeting and Molecular Imaging Based on In Vivo Phage Display, Renata Pasqualini, PhD - UNM
ZIF CO2 Capture, Nasser Khazeni, PhD - NM State
Lunchtime Panel: Startup Companies in New Mexico
David S. Joseph, Co-Founder, President, CEO, and Chairman, Avisa Pharma, Inc.
Mark J. Fidel, Co-Founder, Head of Corporate Development, RiskSense, Inc.
Brian Barnes, Senior Planner, Program Manager, Resilient Solutions 21
Carlos Murguia, Co-Founder, KoolArmor
Reception to follow event.