Daniel Feezell featured in STC.UNM Spotlight
May 2, 2017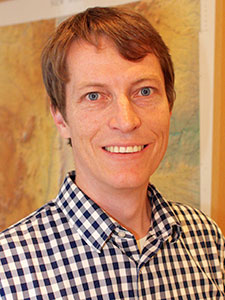 Daniel Feezell
With the disclosure of four inventions to STC, the issue of three UNM-affiliated U. S. patents, and three pending U. S. patent applications for his semiconductor and LED technologies, STC.UNM has taken notice of the work of Assistant Professor of Electrical and Computer Engineering Daniel Feezell and featured him in the STC Spotlight for May 2017.
Feezell's recent research efforts in nanoscale FETs (field effect transistors) technologies focus on alternative methods of increasing current control (specifically decreasing current leakage), device performance and device lifetime. As FETs approach smaller nanoscale dimensions, there is a growing market need for more efficient gate technologies and configurations.
Developed in collaboration with Drs. Steven Brueck and Seung-Chang Lee at the Center for High Technology Materials (CHTM), Dr. Feezell's gate-all-around FET technology allows for greater current control (less leakage) and increases device performance and longevity by using a well-defined, nanoscale, floating current channel from source to drain. The floating channel is formed by selective etching techniques. The current channel is surrounded with Group III oxide formed by liquid-phase, chemical-enhanced oxidation or by SiO2 formed by atomic layer deposition. Applications for the technology include semiconductors, integrated circuits and transistors.
From cellphones to radar, advanced high power and high frequency electronic applications benefit from high electron mobility transistors (HEMTs) in place of traditional FETs. A commonly used material combination is gallium arsenide (GaAs) with aluminium gallium arsenide (AlGaAs), while in recent years, gallium nitride (GaN) HEMTs have attracted attention due to their high-power performance.
Developed in collaboration with Drs. Steven Brueck, Stephen Hersee, and Seung-Chang Lee at CHTM, Dr. Feezell's heteroepitaxial layer technology is a method to optimally grow gallium nitride (GaN) and its alloy system with aluminium gallium nitride (AlGaN) on a silicon (Si) (100) surface. The method is scalable and does not have a built-in polarization field, which allows normally-off operation, which is important for low-power consumption circuits. The technology can be used in materials for future FETs and HEMTs, in optoelectronics such as lasers, solar cell arrays for satellites, LEDs, and in other mobile electronic devices.
Source: 
IN THE SPOTLIGHT... Daniel F. Feezell, Ph.D.
About Daniel Feezell:
Issued U.S. Patents (UNM-affiliated)
U.S. Patent No.  
Date of Issue
Title
9,142,400
July 17, 2013
Methods of Making Heteroepitaxial Layer on a Seed Area
9,076,813
January 15, 2014
Gate-All-Around Metal-Oxide-Semiconductor Transistors with Gate Oxides
9,257,535
May 29, 2015
Gate-All-Around Metal-Oxide-Semiconductor Transistors with Gate Oxides
Pending U.S. Patent Applications
Methods of Making Heteroepitaxial Structures and Device Formed by the Method 
Superluminescent Light Emitting Diodes for Smart Lighting Systems 
Rugged, Single Crystal Wide-Band-Gap-Material Scanning-Tunneling-Microscopy/Lithography Tips
Feezell's research focuses on:
Epitaxial growth, fabrication, and characterization of group III-nitride materials and devices, including nonpolar/semipolar orientations
Solid-state lighting and high-efficiency LEDs
Visible edge-emitting and vertical-cavity surface-emitting lasers
Applications of group III-nitrides to energy efficiency and renewable energy
Feezell is an Assistant Professor of Electrical and Computer Engineering, the Nanofabrication Advisor for CHTM, and director of the III-Nitride Materials and Devices Research Group at The University of New Mexico. Feezell came to UNM about five years ago from the University of California, Santa Barbara. He continues to achieve milestones in a career of many accomplishments.
Award highlights
In 2016, Feezell's project in collaboration with Sandia National Laboratories to explore the use of Superluminescent Diodes to enhance the functionalities of LED Smart Lighting systems brought an "Experimental Program to Stimulate Competitive Research" (EPSCoR) grant award to UNM from the Office of Science of the U.S. Department of Energy.
In January 2015, Feezell received an NSF Faculty Early Career Development (CAREER) Award to study nonpolar and semipolar GaN-based vertical-cavity surface-emitting lasers (VCSELs). The award began March 1, 2015 and continues through February 2020.
Feezell received the Prestigious DARPA Young Faculty Award (YFA) in May, 2013. His project, titled "High-Speed Nonpolar InGaN/GaN Light-Emitting Diodes Using Plasmonic Core-Shell Nanowires," focused on creating nanoscale LEDs for potential applications in optical communications, supercomputing, and sensing.
For more information on awards for Daniel Feezell, visit the News section of the Feezell Group.