Intensive bootcamp course on startups accepting applications until May 7
May 1, 2017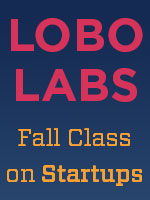 "Lobo Labs," powered by Creative Startups, offers a "business bootcamp" as a UNM course for credit for Fall 2017 in partnership with the UNM Innovation Academy.
The class is geared for prospective entrepreneurs who may be planning a startup company, or students with good ideas who want to learn more about what it takes to be successful in launching their business.
Lobo Labs is a selective program. Students must fill out a short application explaining their ideas and interest in entrepreneurship. Once selected, faculty liaison Rob Delcampo* will contact students on how to complete their registration with UNM. The application should take less than an hour to complete.
A short video is requested to help introduce prospective students to the decision makers. Production quality is not an issue. Videos recorded on phones are acceptable.
Applications for the class are accepted through May 7.
Visit the Creative Startups page to apply. Acceptance decisions are made on quality of concept, not the phase of the business.
The Lobo Labs courses feature:
6 credits open to students (across disciplines)
1-week intercession course, 3 credit hours
(9 a.m. -5 p.m., M-F, August 14-18)

Undergraduate course: LAIS 309
Graduate course: MGMT 551

8 week semester course, 3 credit hours
(1 a.m. - 6 p.m., Fridays, August 25 - October 13)

Undergraduate course: LAIS 310
Graduate course: MGMT 551

Network with leading startups and entrepreneurs.
This is an intensive program focused on identifying a market entry strategy, pursuing early customers, and creating a minimum viable product.
For questions about this course, submit an online inquiry form.
* Dr. Robert G. (Rob) DelCampo is the inaugural Executive Director of the UNM Innovation Academy and a Professor at the Anderson School of Management in Organizational Studies, holding the Rutledge Endowed Professorship in Management as well as serving as the Bill Daniels Business Ethics Fellow.