U.S. Patent issued to Krishna et al. for a system for decision making from a series of images
June 29, 2017 - CHTM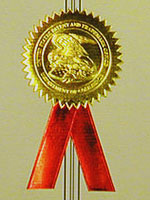 The Science & Technology Corporation at the University of New Mexico (STC.UNM or STC), announced that a new patent has been issued to a University of New Mexico (UNM) team of inventors that includes researchers at the UNM Center for High Technology Materials (CHTM). As the technology transfer and economic development organization for UNM, STC.UNM protects and commercializes technologies developed at UNM by filing patents and copyrights and transferring the technologies to the marketplace.
U.S. Patent No. 9,691,147, "Method and System for Feature Extraction and Decision Making from Series of Images," was issued to Krishna et al. by the U.S. Patent & Trademark Office (USPTO) on June 27, 2017.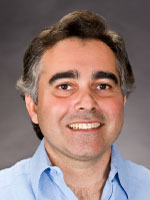 Majeed M. Hayat
The inventors named on the patent are: Sanjay Krishna, Sanchita Krishna, Majeed M. Hayat, Pradeep Sen, Maziar Yaesoubi, Sebastian Eugenio Godoy, and Ajit Vijay Barve.
Sanjay Krishna is the former Director of CHTM and a former Professor of Electrical and Computer Engineering (ECE) at UNM. Sanjay Krishna is currently a Professor of Electrical and Computer Engineering at The Ohio State University. Majeed Hayat is a UNM Professor with the ECE and Physics and Astronomy departments, Co-Chair of the Optical Science and Engineering Program, and a CHTM faculty member. Pradeep Sen and Maziar Yaesoubi are affiliated with ECE. Amit Vijay Barve and Sebastian Eugenio Godoy are researchers with CHTM.
Abstract
Apparatus and methods comprise examination of a subject using images of the subject. The images can provide a non-invasive analysis technique and can include a plurality of images of a portion of the subject at different times a temperature stimulus applied to the subject. An image of the portion of the subject can be aligned such that each pixel of the image corresponds to the same point on the subject over a sequence of images of the portion. The sequence of images can be processed after aligning the images such that data is extracted from the images. The extracted data can be used to make decisions regarding the health status of the subject. Additional apparatus, systems, and methods are disclosed.
Background
Skin cancer is a serious medical condition that can be fatal under certain situations if not properly treated. In most cases when this illness is diagnosed, a patient will go to the doctor to report a skin abnormality (discoloration, growth, etc.). After a visual inspection that determines that the abnormality could be malignant, the doctor typically will perform a biopsy, wherein a portion or the entirety of the abnormality is removed. This specimen is then processed with known techniques and examined by an expert to determine whether or not it is a malignant cancer. However, in an effort to conservatively catch all incidents of cancer, doctors tend to perform the biopsy procedure in any case where there is doubt. Therefore, the large majority (>90%) of biopsies that are taken turn out to be healthy tissue. This causes undue suffering and discomfort to healthy individuals. In addition, the risk of not catching serious skin cancers early enough increases when doctors try to avoid this intrusive procedure in the first place.
---
Source