CHTM researchers well represented in UNM patent list for second quarter of 2017
July 18, 2017 - Compiled by CHTM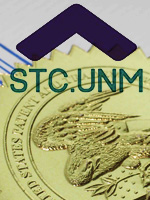 The U.S. Patent & Trademark Office (USPTO) issued seventeen patents to the UNM Science & Technology Corporation (STC) during April, May, and June of 2017 for a variety of technologies created by researchers in the Departments of Chemistry, Electrical & Computer Engineering, Chemical & Biological Engineering, Mechanical Engineering, Computer Science, Physics & Astronomy, Cancer Genomics, Hematology, Pathology, Pharmaceutical Sciences, Radiology, Internal Medicine, and Neurosciences; and the Centers for High Technology Materials, Emerging Energy Technologies, Biomedical Engineering, and the Comprehensive Cancer Center.
Six of these patents were issued to teams which included CHTM researchers.
Visit the original story at STC.UNM for the complete list of patents and the UNM academic departments which contributed to the research.
---
See the CHTM patent reports for:
• January - March, 2017
• October-December, 2016
• April-September, 2016
• January - March, 2016
---
For April, May, June of 2017, CHTM researchers are featured on these patents:
Issued Patent for "DNA Sample Preparation and Sequencing"
Patent No. 9,617,590, issued April 11, 2017
This technology is currently optioned/licensed.
Inventors: Jeremy Edwards, Payman Zarkesh-Ha, Steven R.J. Brueck
This technology is a highly innovative next-generation genetic sequencing platform that implements an ISFET integrated circuit in haplotype sequencing. The invention is a significant advancement in sequencing, showing great promise in reducing overall genome sequencing time and cost.
---
Issued Patent for "Halide-Based Scintillator Nanomaterial"
Patent No. 9,644,141, issued May 9, 2017
Inventors: Marek Osinski, Nathan Withers, Brian Akins, Gennady Smolyakov, Krishnaprasad Sankar
This technology is a scheme for using the sensitivity of the oscillation frequency of optomechanical (driven by radiation pressure), thermo-optical (driven by thermo-optical effect), and thermo-optomechanical oscillators (driven by thermo-optical and thermal expansion effects) to the chemical composition of surrounding medium for detection and quantification of molecules.
---
Issued Patent for "Nested Frequency Combs"
Patent No. 9,653,877, issued May 16, 2017
Inventors: Jean-Claude Diels, Ladan Arissian
This technology is a new method for detecting gamma rays from neutrons. It is based on a new technique of Intracavity Phase Interferometry (IPI) using compact mode-locked fiber lasers, which sense changes of indices of refraction with high sensitivity.  Unlike traditional sensors where the signal is proportional to the length of the sensing element, the invention's sensitivity is independent of the size of the laser device, allowing for miniaturization.

---
Issued Patent for "Compact Biosensor of Matrix Metalloproteinase with Cadmium-Free Quantum Dots"
Patent No. 9,655,553, issued May 23, 2017
Inventors: John Plumley, Erin Milligan, Marek Osinski
This technology is a device, including an optical fiber modified with quantum dots (QDs), for biosensing in the cerebral spinal fluid (CSF) in vivo, by characterizing matrix metalloproteinase (MMP) enzyme activity for identification and diagnosis of specific neurological diseases.
---
Issued Patent for "Large-Scale Patterning of Germanium Quantum Dots by Stress Transfer"
Patent No. 9,666,431, issued May 30, 2017
Inventors: Sang M. Han, Talid Sinno
This technology is a novel process for producing a 2D array of germanium (Ge) quantum dots on silicon-germanium (SiGe) substrates. The process involves reusable technology that has the potential to offer transformative cost-reductions in fabricating a well-defined 2D array of nanostructures. Ge growth is steered in a well-defined nanoscale 2D array without forming dislocations and maintaining a high degree of uniformity across large areas.

---
Issued Patent for "Method and System for Feature Extraction and Decision-Making from Series of Images"
Patent No. 9,691,147, issued June 27, 2017
Inventors: Sanjay Krishna, Pradeep Sen, Majeed Hayat, Maziar Yaesoubi, Sanchita Krishna, Sebastian Godoy, Ajit Barve
This technology is a complete imaging and analysis system for the detection of skin cancer that can offer doctors and medical technicians an entirely passive, non-intrusive, way of detecting skin cancer. This concept is based on the principle that healthy tissue has different thermal properties than diseased tissue; by examining these differences, the developed system can give doctors a better idea of whether the abnormality is benign or malignant.
---