Mostafa Peysokhan Named Finalist For Innovative Idea
April 18, 2018 - CHTM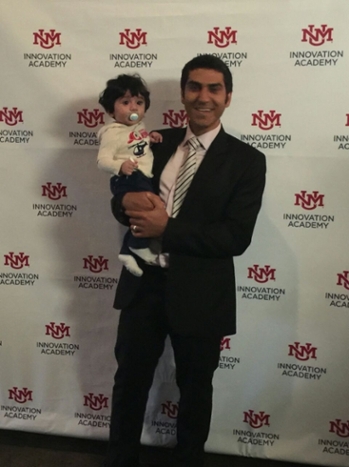 Mostafa Peysokhan
Hosted each semester by STC.UNM and UNM Innovation Academy, the Rainforest Student Pitch Competition is a competition which allows student entrepreneurs in the state of New Mexico, pitch their innovative ideas for products, services, or technologies in 60-90 second presentations before entrepreneurs, investors, and business professionals in the community.
There are two rounds in the competition, the first, a 90-second video of a student or team of students delivering an elevator pitch for their business or idea. The second round (Final Round) is at a live public event in front of a panel of judges during an evening reception and the top winner is determined by audience voting and receives a $1,000 cash prize. All finalists receive a cash prize and additional winners are determined by a panel of judges
One of CHTM's graduate students, Mostafa Peysokhan, entered the competition and was placed on the top 10 list. As a finalist, he won a $250 cash prize at the Spring event on April 16, 2018. So what was Mostafa's prize winning idea?
Mr. Peysokhan's pitch was about designing a device that compresses plastic bags, at home, to help the environmental crisis that the world faces today from our increasing consumption of the product. Here was his pitch.
Each year more than 380 billion plastic bags are consumed in the United States, 4 out of 5 grocery bags is made of plastic and on average each plastic bag is used for only 12 minutes.
A plastic bags kill numerous animals because they do not readily break down in the environment and can take anywhere from 20 to 1,000 years to decompose. An animal that dies from the bag will disintegrate and the bag will be released, another animal could harmlessly fall victim and once again eat or get tangled in the same bag. The land litter that is made up of plastic bags has the potential to kill over and over again. 100,000 marine animals are killed by plastic bags annually. It has been estimated that one bag has the potential to unintentionally kill one animal per every three months due to unintentional digestion or inhalation.
Plastic bags don't affect only wildlife. The floods in Bangladesh in 1988 & 1998 were made more severe because plastic bags clogged drains. The government has now banned plastic bags.
The majority of the mentioned problems are because of high surface to volume ratio of the plastic bags, Mostafa proposed to solve this problem by designing a cheap, simple and compact device that squeezes the plastic bags with heat and pressure at home. With this device, it is possible to make a 2 inch by 1 inch compact disk from more than 20 middle size shopping plastic bags. By decreasing the size of plastic bags to 1/40 of its original size the cost of transportation and disposal of waste decrease dramatically.