Preyom Dey Announced as One of Five Winners in Paper Competition
May 1, 2018 - CHTM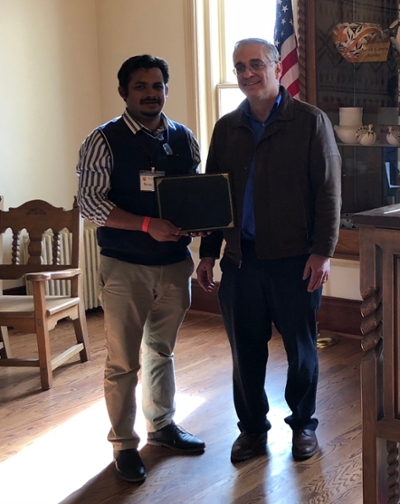 Preyom Dey with Dr. Marios Pattichis, Associate Chair of ECE
Preyom Dey, a CHTM graduate student working in Dr. Steven Brueck's research group was announced a shared prize winner in the Oral Presentation Sessions at the New Mexico ECE Student conference (NMECESC). NMECESC was a conference organized by ECE-GSA at the University of New Mexico. Participants ranged from students at the University of New Mexico, New Mexico State University and other institutions across the state.
Preyom's submitted paper is titled, "Resolution Enhancement for optical microscopy". In his presentations he discussed the issues of conventional microscopy and the advantage of  an Interferometric Microscopy technique that is being developed at CHTM. 
"We have already extended resolution limit of optical microscopy to 120nm where conventional optical microscopy limit was around 500nm. Our ultimate goal is to extend resolution limit to 30nm. This microscopy technique will be very helpful for optical metrology systems and also for biological research," Preyom stated.
Other winners include Marios Patriotis, Amir Raeisi Nafchi, and Abhinav Aggarwal.