NASCENT NERC and QESST ERC Outreach at Big Brothers Big Sisters Discovery Festival
December 17, 2018
The Discovery Festival is an interactive Science Technology Engineering and Math (STEM) festival hosted by Big Brothers Big Sisters. The goal is to introduce local students to STEM business and job opportunities through hands-on activities and discovery. The event at the Albuquerque Convention Center in November brought 3,500  students from across the state to encourage students from K-12 to pursue careers in STEM.
Stefi Weisburd, Education and Outreach Manager at the School of Engineering, worked with CHTM graduate students at the NASCENT NERC and QESST ERC booths.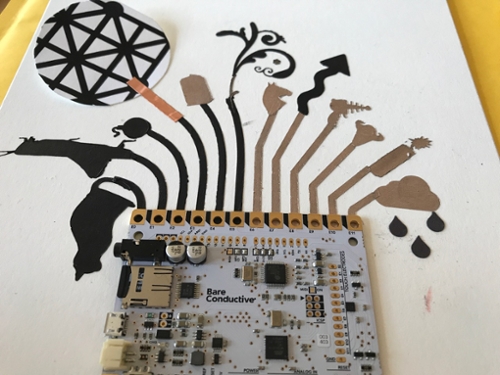 A sound board from the NASCENT NERC demo
At the NASCENT and QESST table, students printed LED circuits with conductive paints and inks.
The UNM Nanoscience and Microsystems Engineering (NSMSE) booth won runner up for the single booth Best in Show. UNM had several other booths as well, including a college recruiting table and the UNM medical examiner's office.