Local Cub Scouts Visit CHTM For STEM Activities
December 11, 2019 - CHTM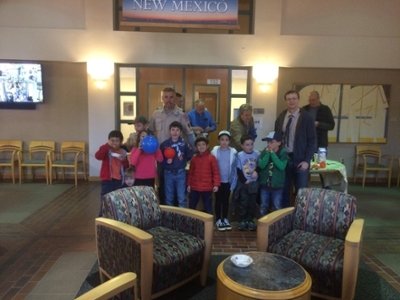 The Boy Scouts of America (BSA) has created a new STEM focused initiative called STEM Nova Awards. They're taken this on to encourage the natural curiosity of youth members and their sense of wonder about these fields through existing programs. The STEM Nova Awards program was created so that youth members have fun and receive recognition for their efforts in STEM-related activities. The Scouts work with an adult counselor or mentor, various modules allow them to explore basic principles of STEM and discover how exciting STEM can be.
On November 26th, CHTM hosted Cub Scouts from the BSA troop 241. They were able to experience a Cleanroom and laboratory tour, received training in 3D printing, and participated in a liquid nitrogen (LN2) activity. During the liquid nitrogen activity, they got to make ice cream using LN2.

Special thanks go to Dr. Arash Mafi, CHTM's Director for allowing the visit and CHTM staff Joel Straquadine, Masahiro Kamei, Dr. Nathan Withers, and CHTM student employee, Maya Garcia. Also, thanks go to Dr. Victor Acosta and Dr. Tito Busani for opening up their labs to allow the Scouts to tour it.