CHTM Research Assistant Professor Receives L.E. Scriven Young Investigator Award
September 29, 2020 - CHTM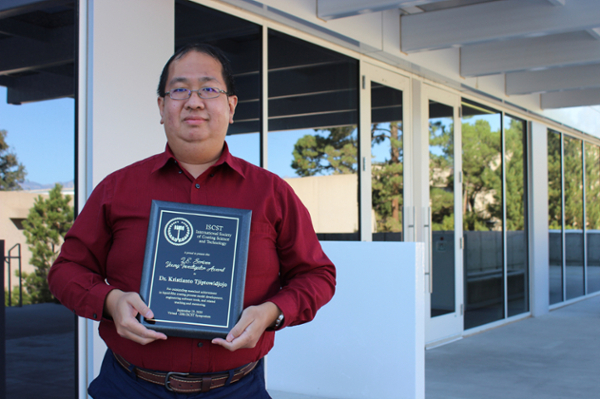 Congratulations are in order! CHTM and Chemical and Biological Engineering Research Assistant Professor, Dr. Kristianto Tjiptowidjojo has received a prestigious award!
The International Society of Coating Science and Technology (ISCST) is a technical society that was founded in December 1996 by an intenrational group of academic and industrial engineers who believed that the gloabl coating technical community would benefit by having its own society. The specific purposes of ISCST are to provide forums for presenting advances in the mechanisms and technologies used in the preparation, application, solidification, and microstructuring of coated films. Encourage technology transfer, professional development, and networking of scientists engaged in the coating process sciences. Provide continuing educational programs in coating process science and technology, and provide opportunites to leverage technologies among diverse coating industries.
The ISCST sponsors an prestigious award, the L.E. Scriven Young Investigator Award that is given in recogniziton of outstanding sustained achievements or one-time breakthroughs in the area of continuous liquid film coating science and technology. Those nominated for this award must be forty years or younger at the time of award and it is presented at the ISCST Symposium.
Dr. Tjiptowidjojo was selected for outstanding sustained achievement in liquid-film coating process model development, engineering software tools, and related teaching and mentoring and was awarded at the 2020 virtual symposium.