Spectrophotometer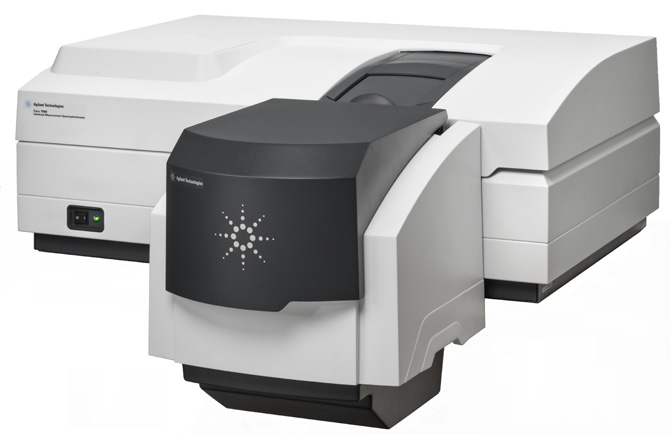 Agilent Cary 7000 Universal Measurement Spectrophotometer (UMS)
The Agilent Cary 7000 Universal Measurement Spectrophotometer (UMS) is designed for superior performance, flexibility and productivity. Comprising the Cary
7000 UV-Vis-NIR spectrophotometer and Universal Measurement Accessory (UMA), the Cary 7000 UMS will meet all your research and QA/QC needs for Thin Films & Coatings, Optics, Solar and Glass applications.
Key features include:
– Ability to move the detector and the sample, independently of each other, providing a true multi-modal measurement system capable of absolute reflectance, transmission and scattering without moving the sample.
– Superior stray light rejection with an unprecedented 10 Abs photometric range.
– Four detectors consisting of a high performance photomultiplier tube (PMT), proprietary PbS detector and a two-colored Si/InGaAs detector.
– "Direct View" two-colored Si/InGaAs detector that provides coverage in the UV-Vis and NIR range without using integrating spheres or light pipes that attenutate signal and can compromise data quality.
– Proprietary PbSmart technology detector that provides superior photometric linearity in the NIR up to 8 Abs.
– High resolution optical encoder technology that ensures the sample and detector never loses position during data collection – even if the system is bumped accidentally.
– Wire grid polarizers that provide superior throughput across the wavelength range, and a large acceptance angle to ensure a high degree of polarization accuracy.
– Plug-n-play installation and removal of the UMA – with no re-alignment required – enabling use of the Cary 7000 spectrophotometer with other accessories via its precision Lock Down mechanism for quick and reproducible accessory changeovers.
This tool was partly supported by the University of New Mexico Office of the Vice President for Research Program for Enhancing Research Capacity.