Governor visits CHTM to announce funding for UNM startups
March 14, 2016 - CHTM, UNM Newsroom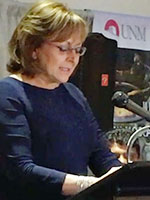 Governor Susana Martinez announces TRC funding at CHTM
Four startups at the University of New Mexico (UNM), including three at the UNM Center for High Technology Materials (CHTM) in the area of photonics, are among six startup companies to receive $300,000 in first round funding from the state Economic Development Office's Technology Resource Collaborative (TRC), to help develop and commercialize several innovative products that are the result of partnerships between researchers at New Mexico's laboratories and universities and the private sector.
In his remarks introducing the governor, Cabinet Secretary Jon Barela pointed out that New Mexico had a history of creating brilliant innovations, but other states had been more competitive in leveraging our technology to bring products to market and had been the beneficiaries of the resulting economic development. The TRC initiative is designed to commercialize New Mexico innovations, providing business opportunities and high-end job creation in the state.
Skinfrared, LLC received $62,000 to leverage a joint project between Skinfrared, UNM and the Air Force Research Laboratory (AFRL) with AFRL funding to Skinfrared for development of high operating temperature (HOT) photonic detectors. The TRC award is to assist Skinfrared in developing a strategic business plan for this technology and to provide access to prototyping facilities at CHTM. The principal investigator (PI) on this project is Earl Fuller, who has over three decades of experience in the semiconductor industry including Emcore (now SolAero).
Skinfrared LLC was founded as a medical startup in 2009 by UNM Electrical and Computer Engineering (ECE) Professor and CHTM Director Sanjay Krishna, CTO, and his wife, Sanchita Krishna, COO, UNM cancer biologist, to use infrared sensing technology developed at CHTM to develop a camera to measure heat through the skin to determine whether a lesion was malignant or benign in a non-invasive manner, with the potential to replace biopsies in the detection of skin cancer.
"Skinfrared is in a very exciting stage," said Sanjay Krishna. "The idea was to develop these detectors for dual use applications that can be used in a wide variety of operations, such as commercial, military, medical and others. This is really a win-win because the Air Force sees their money going towards a particular product with Skinfrared delivering the goals of the project. The TRC funds will help Skinfrared make a dual use product.
"This is really in line with our mission which is research, creativity and innovation combined with interdisciplinary education, training and outreach in support of entrepreneurship and economic development."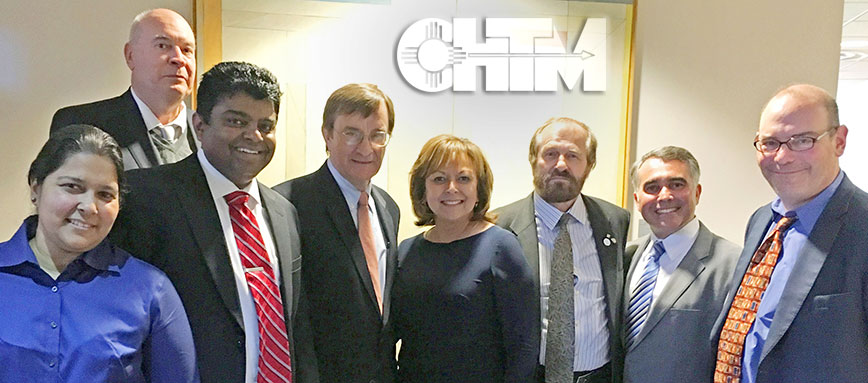 l-r: Sanchita Krishna, COO - Skinfrared; John Joseph, CEO - Optipulse; Sanjay Krishna, CEO - Skinfrared; Earl Fuller, PI for Skinfrared; Governor Susana Martinez;
Marek Osinski, PI for Optipulse; Majeed Hayat, CTO - Dynamic Photonics, Inc; Robert Efroymson, CEO - Dynamic Photonics, Inc
In addition to Skinfrared, the five other projects include:
UNM will collaborate with Sandia National Laboratory and Dynamic Photonics, Inc. (DPI) through a $60,000 award to develop a significantly cheaper way to produce optical receivers which are used in laser-based fiber optic communications. DPI was cofounded by UNM ECE Professor Majeed Hayat (Associate Director of CHTM) and UNM ECE Associate Professor Payman Zarkesh-Ha. (Learn more about Dynamic Photonics, Inc.) The TRC award leverages prior gap funding from STC.UNM and current investment from the New Mexico Start-up Factory to commercialize DPI's dynamic-based innovation in avalanche photodiode (APD) technology. DPI's unique driver-circuitry process enables optical receivers to operate at speeds four to five times faster than receivers currently on the market. This has great potential for optical communications to be much faster over much greater distances, while using less energy and taking up less space.  
Through a $50,000 award, UNM will work with Pressure Analysis Corporation (PAC) in commercializing their first product, the SmackCAP™, a flexible, breathable skullcap designed to be worn by athletes in contact sports that makes it possible to assess (and prevent) long term cumulative damage from repeated blows or pressure to the head (CTE). When an athlete is hit, the impact data is wirelessly transmitted to sideline staff in real time via PAC's mobile application. The data is also stored in the cloud, so an ImPACt Scorecard™ can be made available to athletes and their doctors. Dr. Scott S. Sibbett, PAC team member, and two other researchers at UNM's Center for Biomedical Engineering developed the sensors for SmackCAP™, which are the most highly sensitive wireless impact sensors available today, as tested by Los Alamos National Laboratory. UNM's Radiology Department will provide support, with the effort led by Reed Selwyn, PhD, DABR Vice Chair, Research Chief, Medical Physics Associate Professor.
With $40,000 awarded to Optipulse, Inc. (a photonics business based in Albuquerque), UNM will collaborate with the Center for Integrated Nanotechnologies (CINT), operated by Sandia National Laboratory, in developing ultrafast transmitters for 4G and 5G wireless networks and data centers. The project is based on two UNM patents by UNM ECE Professor Marek Osinski and his group, and Dr. Osinski is the Principal Investigator (PI) for the project. These devices can bring the reality of 5G wireless capabilities to New Mexico, while providing remote communities with high bandwidth connections, assisting in job creation and opportunities throughout the state.
With $50,000, New Mexico State University will collaborate with NMX Organic Pesticides to develop pesticide and fertilizer products to provide organic farmers with more natural options to protect their crops.
New Mexico Tech and Los Alamos National Laboratory will use a $38,000 award to develop arsenic removal technology to purify water used in the oil and gas industry.
TRC was reestablished in a bill signed by Governor Martinez in 2013. The Economic Development Department's  Science and Technology Office, headed by Patricia Knighten, oversees the Collaborative, which is made up of presidents of New Mexico's three research universities: the University of New Mexico, New Mexico State University, and the New Mexico Institute of Mining and Technology, as well as several other appointees. Patricia Knighten also chairs the TRC.
Together, the group works to identify projects that are of interest to New Mexico's labs, universities, and private-sector companies, and provide them with funding to bring these ideas to the private sector.
Sanjay Krishna said, "We need to invest in the infrastructure where companies can come in and do rapid development, but also to compete with the best, both on a national and global scale. We need to have the best infrastructure. We need to keep investing in technologies like this."
"With tools like these, we ensure that the ideas of tomorrow are developed, made, and sold to the world – from right here in New Mexico," Gov. Martinez concluded.
Related: